Nepal is a country that never ceases to amaze, with its stunning Himalayan landscapes attracting all those who seek adventure.
Probably the majority of mountain or mountaineering enthusiasts and professionals alike consider Nepal to be one of the most beautiful and desirable countries in the world, but even putting the the Himalayas aside for one moment, this country is pretty extraordinary.
So here are 19 interesting facts about Nepal that you might not have known as well as some suggested adventures and more useful links to further reading, including lists of books and guidebooks to the Himalayas, Everest, Annapurna and more: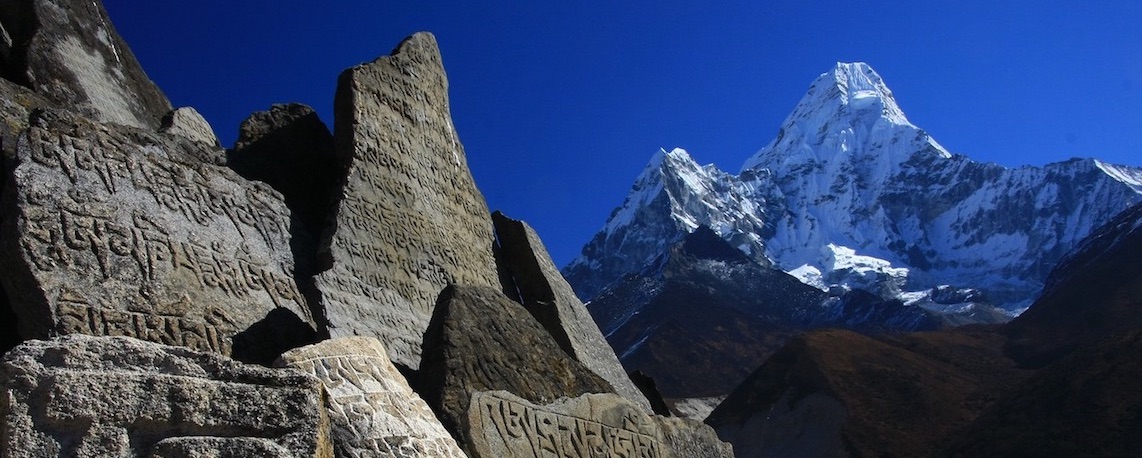 Factfile
1. The majority of Himalayas is located in Nepal. For a fact, 8 out of 10 tallest peaks in the world, including Mount Everest, are standing in this country.
2. Mount Everest is not the only highest natural landmark in the country. Situated at an elevation of 4,919 meters (16,138 ft) Tilicho lake is the highest lake on Earth. On the other hand, you should keep in mind, that Tilicho lake is only the highest for its size as there are higher yet smaller lakes in the world and even in Nepal.
3. Bright blue Rara Lake is the deepest lake in the whole country (max. depth 167 m (548 ft), while Nepal's fabulously turquoise Shey Phoksundo Lake is the deepest lake at the height of 3600 m in the world with a max depth of 145 m (475,7 ft).
4. From the first attempt to ascend Mount Everest, 4469 different people have summited the planet's highest mountain for 7,646 times. However, there have also been 282 casualties on the mountain and as the number of people that attempt to conquer Everest is increasing so does the number of people who do not come back.
5. Speaking of dangers in the Himalayas, Annapurna is considered to be one of the most dangerous climbs in the world. In fact, there have been at least 72 deaths on Annapurna and only around 200 successful attempts to climb the mountain, therefore, it is often called the deadliest mountain in the world.
6. Nepal's flag is pretty extraordinary, it is, in fact, the only flag in the world, that is not square shaped, instead it consists of two triangles that symbolise the Himalayas and two major religions in Nepal - Buddhism and Hinduism.
7. Talking about religion, it should be noted that there is a general misunderstanding that Buddha originated from India, which is wrong as Buddha was born in Nepal.
8. If you are not so fond of snakes you have to brace yourself for the possibility to meet one in Nepal. Even at the elevation of 4,900 m (16,072 ft), the Himalayan pit viper (lot. Agkistrodon himalayanus) is the highest living snake in the world and, yes, it is venomous!
9. If you are adventurous and have enough experience in mountaineering, you should keep in mind that there are 14 mountains in the world that exceed 8000 m elevation and 8 of them are located at least partially in Nepal. For a lesser challenge, there are around 270 mountains over 6000 m and 72 over 7000 m that are open for climbers in the Nepalese Himalayas.
10. Separating two major Nepalese peaks, between Annapurna and Dhaulagiri lies the Kali Gandaki Gorge, which is the deepest gorge in the world. Even though there are some disagreements on its exact depth, some measure it to 5,571 m (18,278 ft).
11. If you think that you are too young or too old to conquer Mount Everest, well you should think again as the youngest human who reach the top of the world was only 13 years 10 months and 10 days old Jordan Romero from the USA and the oldest was 80 year 224 days old Yuichiro Miura from Japan.
12. Yeti is actually a character in Nepalese folklore! Pre-19th century a yeti-like figure had been worshiped as a god. Ever since then there have been many sightings of so-called yeti both by locals and foreign visitors and even though some large footprints have been found in the snow there is still no proof of a yeti actually walking the Nepalese Himalayas.
13. Even though Nepal is mostly known for the Himalayas it is also a country of cultural heritage, for instance, Nepal is the densest country in the world in World Heritage Sites. In fact, Kathmandu Valley has 7 sites on World Heritage list that are located only within 15 km(9 mi) radius.
14. There are around 80 different ethnic groups in Nepal and they speak over 100 different languages! One of them are called the Sherpas, mostly settled in the eastern part of Himalayas. They are pretty extraordinary as they are genetically acclimatized to high altitudes. The members of this ethnic group are likely to speak at least a little English as they are often hired as porters for foreign mountain expeditions.
15. Nepal is a place where you can still see endangered species such as the one-horned rhino and Bengal tiger living in freedom.
16. This one is not that cheerful, yet it is still interesting. As it is highly complicated to get anyone off the Mount Everest, especially if their whereabouts are unknown, there are around 200 human bodies remaining on Mount Everest. Some of the remains are simply lost somewhere in the snow, others became landmarks reminding the dangers of climbing Mount Everest.
17. Probably it has been a long time since the year when there was no conflict in an entire world, involving one country invading the other. This makes Nepal extraordinary as it has never been invaded or colonized. This means that it also does not have to celebrate a day of independence because Nepal simply has never had to declare it!
18. Almost the entire population in Nepal is religious – less than 1% is not. Even their word for hello – "Namaste" literally translates to "I salute the god in you".
19. If you have ever been irritated by slow internet speeds, you know how devastating it can become. However, Nepalese people understand the struggle more than most people in the world – more than a half of internet users in Nepal surf the web with a speed below 256 kbps.