Holiday season is here! The Christmas tree is up, shiny lights are all over the house. You've done all your shopping so sit back, relax and enjoy the holiday spirit. What's that? you haven't done all your Christmas shopping?
Well, if you know anyone who is into the outdoors we are here to help. You might simply be looking for a way to treat yourself. Whatever it may be we have put together a list of 15 great gift ideas for anyone who is into the outdoors.
If you have a friend or a family member that is all about adventuring and exploring the outdoors, a gift that is outdoor related is the perfect choice for them. They may be planning a new getaway as we speak so hurry up and take a look at this recommendations:
Baby, its cold outside... many an outdoor lover wants a strong and durable pocket flask for that wee dram. A good sip of whisky will warm up anyone mouton an adventure. The Stanley Classic flask is made of stainless steel and has a rust-proof finish. This ensures that the flask will last for very long.
BONUS: It comes in a few different colours and you can also engrave it to make the gift more personal.
It is designed for hard and cold weather and that makes this watch perfect for all kinds of outdoor activities like hiking, running, swimming, climbing, trekking and it is fashionable enough to be used every day.
The watch has a barometer, 3-axis compass, thermometer and altimeter. Via GPS, the compass and altimeter are automatically calibrated. The watch can be synchronized with a Smartphone. It can show emails, texts, and other notifications. When connected to the camera, you can control it directly from the watch.
With multiple features, the Fenix 5 is great for all the hikers and sports lovers. Find more ideas on watches here
For all of those that like to be warm on their adventures, Patagonia's down jacket is a great gift.
The jacket's ripstop shell is made of recycled polyester, filled with "traceable" goose down (they know the birds it comes from). It is very durable and water repellent. There are hand warmer pockets with a draw string to bring it in nice and tight without getting your hands chilly. Nice. All in all it is the perfect addition to an outdoor wardrobe. Now for the important bit: it is very stylish, it comes in some very nice and modern colours.
The Hummingbird Singe is very small and light and makes a great gift for those who like to be active and be outdoors. It is designed by a FAA Certified Parachute Rigger. This makes the hammock as light as possible, very easy to pack and so comfortable. This is the first time that parachute technology has been used on a hammock.
This backpack is designed to be used in extreme adventures. Do not take it to the pub. Unless you want someone to think you have just been on an extreme adventure. In which case, do take it to the pub.
It is an ideal gift for those with an active lifestyle. It is made out of 100% waterproof fabric, it is "bombproof and foolproof". The HMG 2400 Southwest is one of the most durable and weather-resistant backpack that you will find.
BONUS: The backpack is super lightweight and has a minimal design extras - foolproof . It comes in white and black. I like it. Please, please, pretty please??
Everyone needs a wingman - although presumably 50% of the population needs a wing-woman, but we'll gloss over that for now because a Multitool is a gift that will be used over and over. Its very useful around the house and for the camping, hiking and pretty much any outdoor trips.
The Wingman Multitool requires only one hand to use all the tools, which can be very helpful when on the trail, when you have only one hand to spare or indeed if you only have one hand. It is equipped with a knife, ruler, wood and metal file, scissors, bottle openers, screwdrivers and many more.
It's compact, lightweight and has a removable pocket clip. Get it.
There is no mistake with this kind of gift, especially with GoPro Hero6. A GoPro camera is a great way to capture all the adventures, cover all the angles and see the world from another perspective.
This model has the best 4k recording yet. It has image stabilization which is very important when capturing images in action. And the slow-motion shots are never better with the recording boost that the GoPro Hero6 features.
It does everything GoPros do. Better.
I seriously want one of these. A gift that will leave your outdoor enthusiast speechless. There is a lot of hype about this drone and it looks like it deserves all of it.
This model comes with an intelligent camera. It automatically provides tracking photos, it can react to the environment and fly around obstacles. What makes this drone one of the best out there is this obstacle avoidance feature when in follow me mode. It will never bump into your ego.
BONUS: The flight time is increased and is now 28 minutes, which means more pictures and longer videos.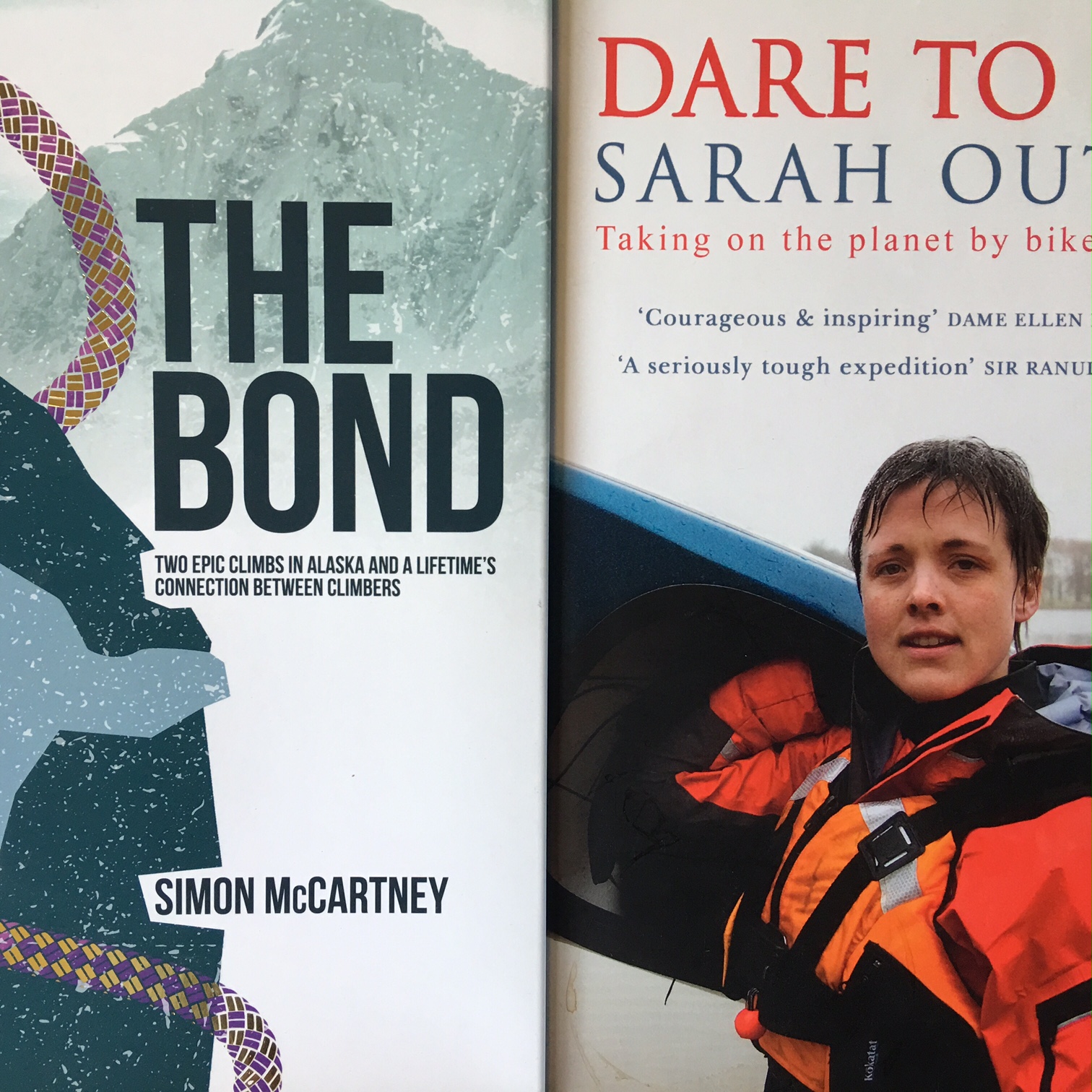 9. 2 inspiring BOOKS.
I like books. There a lot to choose from. They come in many different colours.
Here are just two recent titles that have won awards / inspired me. The first is The Bond by Simon McCartney; a tale of two epic climbs in Alaska and the deep connection between climbing partners. The second is Dare to Do by Sarah Often; the tale of Sarah's round the world journey by kayak, rowing boat and bicycle.
BONUS: Browse many more book ideas here.
Alastair Humphreys has been (and continues to be) a big inspiration for me and many others. This book is great for anyone who loves a the idea of a good challenge and new adventures. It is fun and inspiring, with a huge number of ideas to get you outside and mixing the peace of nature into your daily hustle of work and home life.
You can also get a copy signed by the author if ordering directly through the website which makes a really nice touch to this gift.
This cooking system is very fast and great for those who enjoy a little outdoor foodie action. It is reasonably priced (see below) and provides decent value for money in what can be an expensive sector. It comes with a 1 litre insulated pot, piezo ignition, heat indicator with color changing signals (not sure why - if it's bubbling it's hot).
It comes in various colors and patterns, all nature inspired - which is obviously the most important aspect of any cooking system. Am I right? anyone?
BONUS: A good cheaper alternative would be the Alpkit Brukit Wolf - I actually use this and, although I have had a problem with MSR gas canisters on a couple of occasions (no gas getting through) it is a great stove and an amazing price!
This paddle board is portable and very easy to store, it can be used in river rapids or for surfing. A great thing to have when on an outdoor adventure.
It is the toughest inflatable paddle board, made of of military grade PVC material and drop stitching for rigidity. Reviews say it is almost impossible to damage it, even if you run it over with a car or a truck. This board doesn't crack or dent and this is an amazing advantage. Its maximum rider weight is 350 lbs.
No need for plastic bottles, you can just refill anywhere, from any water source! Everyone should have one.
The Water to Go filter bottle uses technology developed for the NASA space programme, it filters 99.9% of viruses, bacteria and chemicals. It is also eco friendly. And, most importantly, it comes in a couple of different colours.
Read our review on Water-to-Go Filter Bottle.
If its not on social media it never happened happened, right. Wrong actually but its the profusion of smartphone apps for the outdoors and the increased use of technology in the outdoors it would be handy if we could just plug our smartphone charger in a tree. However, since that is still impossible, a solar charger is the next best thing.
The Anker Powerpoint is very durable and resistant to outdoor conditions and the 15w version can charge two devices at the same time. I have used it and reviewed it here.
Ok, this is probably not one for the lightweight nerds, but I love the idea of this for the beach or a day trip . This portable couch is very light and can fit in your bag. It is great for the beach and for the rocky surfaces. The best feature is that it inflates in seconds.
It is made of durable nylon ripstop and it is dirt and moisture repellent. The Lamzac The Original Air-Filled Couch is a great way to relax and soak in the view. Also, it can be used in a park, for festivals or just for hanging out in the back yard.
LATEST BLOG POSTS
I quit the rat-race to live a more adventurous life. This is my journey.