here are my top micro-adventure ideas for families to introduce your children to adventure or keep them entertained and enthused by nature and the outdoors.
If you are reading this thinking to yourself that this page is not for you because your kids start whining after walking fifty metres, or they are scared of creepy crawlies, or they don't like touching long grasses, or they fear getting a bit muddy… then allow me to correct you. You are in exactly the right place. Stay here, read on until the end!
My daughter is seven years old and I have always tried to get her interested in the outdoors. On sunny weekends I made an effort to take her walking in our local wild places. I pointed out birds and plants and bugs and I made up silly stories and pretended that we were stalking dragons and that she was princess and somewhere there were fairies and we would definitely, definitely see rabbits and foxes and owls.
But whilst I did succeed in entertaining her for short periods of time (incidentally her incessant wittering usually ensures no wildlife comes near us) none of this prevented her slowing down, staring at her toes and complaining of just how a great a distance we had already covered - no matter that I could still see the car.
Now, this has always disheartened me a little. As much as I adore her, and as naïve as this makes me sound, I had hoped that she would already have had some enthusiasm for tramping across fields and spending long periods of time in the elements. I despaired, just a fraction.
Then, early in 2016 three things happened whilst we were in Thailand. Firstly I realised that giant monitor lizards are not put off by my little girl's endless capacity for chit chat. Secondly I found out she is not in the least bit scared by nature and it's multifarious beasts - quite the opposite; as her mother hunkered behind a tree Emma was getting as close as possible to the beast with the flicking blue tongue. And lastly it became apparent that she is also capable of braving the wild seas or wandering for quite a long time through the sticky, mosquito-thick jungle providing the company is entertaining enough.
The conclusion to be drawn from this is that she needed real adventure, not some stroll around a British nature reserve to see yet more greylag geese. Oh and also; everything is fun and interesting if your parents aren't the ones looking after you.
A few simple Family MicroAdventures
So June rolled around and she had grown up a bit more and "they" have been "doing" mini-beasts at school so I thought it was time to do something wild together. I had read about 30 Days Wild last year and given the fact that I have spent a good few hours in the past year on Wildlife Trusts' land wandering and volunteering it felt like a good way to promote the WT and commit to doing more wild stuff.
I billed it as A Month of Adventure. I described just how much we would do, the things we would see, the new experiences she would have and it didn't take long for Emma to be hooked. And… ahem… I may have also said it was a competition.
Anyway, to the point! Throughout this past month Emma has had a number of firsts and a number of micro adventures so here are a few that she has absolutely loved and some other ideas that shall be doing before long.
1. Wild Camping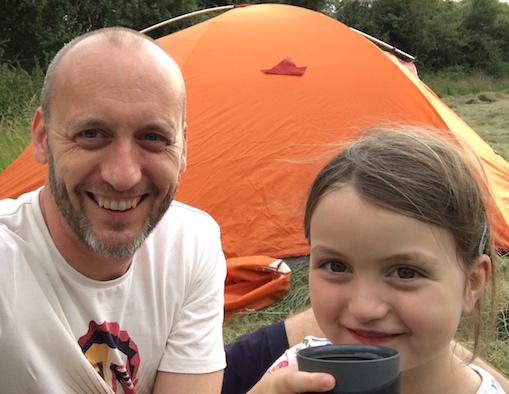 Yes, you wind-scarred, rain-streaked, well-seasoned bores out there, it is just camping that is not taking place in a camp site, but I am calling it "wild camping" because it sounds more exciting and it's what my daughter wants to call it!
How easy is it? Very! We were 2 miles from home, in the corner of a field. We ate first then went out to enjoy the long summer evening. We pitched a tent and played cards and drank a cuppa with biscuits. If nothing else biscuits should be enough to entice the reluctant. To be honest if the night is clear you don't even need a tent.
What's the best thing about it? The evening is a great time to see wildlife. We had hoped to see owls, for which Emma holds a special fascination but instead we were lucky enough to watch a fox stalking some geese.
2. Wild Swimming
On a trip to Grasmere in the Lake District Emma was absolutely distraught to discover that she was too young to be allowed in the hotel swimming pool. In a totally unexpected act of throughly grown up pig-headedness she decided she wanted to have a dip in the lake.
We ran back to the room, got changed and to my astonishment and the applause of a group of spectators in the hotel garden, she went through with it.
How easy was it? Very. It's free.
What's the best thing about it? The muddy bottom was hilariously funny between the toes. We also had the unforeseen joy of sharing the water with a family of mallard chicks (see video above).
3. Paddling
I bought a packraft late last year and Emma has long wanted to have a go. 30 Days Wild seemed like the perfect excuse.
How easy is it? It helps if you have a packraft, kayak, canoe, dinghy or something that floats but there are also plenty of places to hire such vessels in summer. The pub down the road from us rents out Canadian canoes.
What's the best thing about it? I think from a child's perspective it was seeing the land from the water, essentially affording a completely different view of a world which they know relatively well. Trying a new method of propulsion added to the adventure. The different nature that lives on and in the water was fascinating.
4. Wild Cooking
You see I have used the world "wild" three times in ways that will probably annoy many people but I won't apologise. Wild cooking is just cooking outdoors, or at least outside the confines of a house and garden.
We made an adventure of it one evening in June and it was great.
How easy is it? I imagine we were no more than two miles from home, having driven one mile and walked one. We lugged an array of implements to cook with on an Alpkit Brukit Wolf stove, but in truth we cold just as easily have cooked things before and heated them. We could even have eaten a cold meal outside in the evening sun.
What's the best thing about it? In actual fact it might seem a little daunting but it was extremely relaxed. There was no technology to disturb us. We chatted, Emma wandered around looking at things. We played cards. And after eating we all lay down in the sun together listening to the wind in the long grasses (at least when shorty piped down for a second!).
5. Foraging for food
This has many guises - I remember my parents teaching me which mushrooms to pick - but it can be as simple as picking blackberries to scoff or elderflower to make a cordial. Given the season we chose to make elderflower cordial and ice cream.
How easy is it? Er, well there's ice cream involved so it literally couldn't be easier to convince a five year old it was a good idea.
What's the best thing about it? Ice cream.
More inspiration
Don't just take my word for it. If you need more inspiration check out these peeps:
This is a tiny sample of the information out there so, you know, do some Googling as well. I'm not gonna do all the work for you!
LATEST BLOG POSTS
I quit the rat-race to live a more adventurous life. This is my journey.