For some, hiking through beautiful countryside just isn't enough. Some hikers need a little more adventure in their hike: a touch of fear and a dose of courage to create an additional element of thrill in the adventure.
From makeshift paths clinging to cliff walls to rocks suspended above thin air and a couple of knife-edge ridgelines, here's our run down of 15 hikes that are sure to get your hairs-raised and pulses racing. They are in no particular order and we have divided them by continent so perhaps you can cram a few in on the same trip? Now, brace yourselves...
USA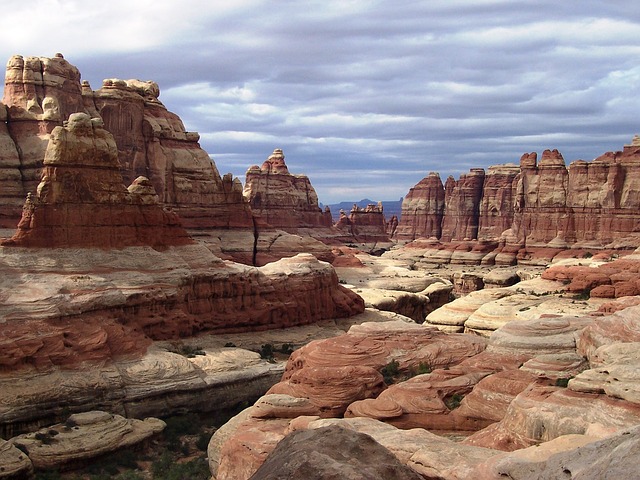 1. The Maze – Canyonlands National Park, Utah
Don't get lost in this Groundhog Day desert.
The least accessible section of a national park dominated by towering rocks and red earth is called The Maze. A landscape of dead-end canyons and scarce water supplies calls for absolute self-sufficient and attracts less than 2,000 visitors a year (most driving through in jeeps).
It is not called The Maze for nothing. Many canyons here look identical and there are no marked trails. Once you're in The Maze, it'll take all your wits and wisdom to find your way back out. So if you fancy yourself a map reading savant, this challenge is for you.
Be sure you take enough supplies for a long stay – it can take rangers three days to locate and reach you here.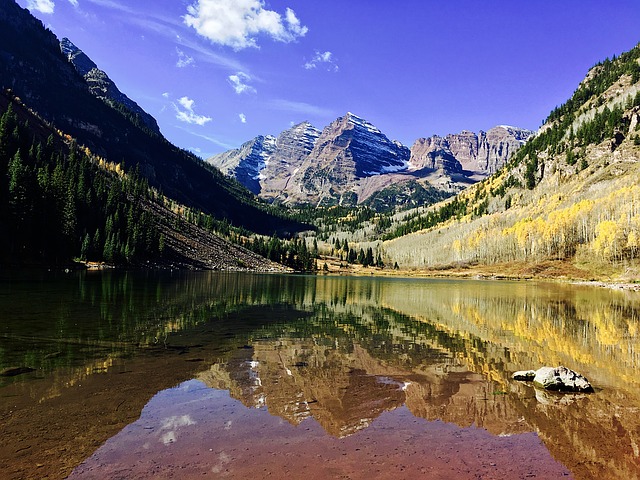 2. South Ridge (Maroon Bells) – Colorado
Search for the right route and hope the rocks above you stay there.
Although not named The Maze, the South Ridge Route of Maroon Bells is definitely a maze of sorts. With the summit of the southern peak of the Maroon Bells above you, the destination is clear (or so you'll think). But safely reaching the true summit is another matter altogether.
Over 9-12 hours, this summit return requires constant route-finding while clambering carefully over the precarious rubble of the crumbling peak. The terrain is very unstable and there is no such thing as a 'normal path'.
As you scramble up the consistent class 3 route, be careful not to dislodge any loose rocks. If you do, all you can do is pray that there's no-one below you. The challenge becomes a mental endurance too as the numerous false summits can easily frustrate you into making a mistake. Should you make one it could prove to be extremely costly.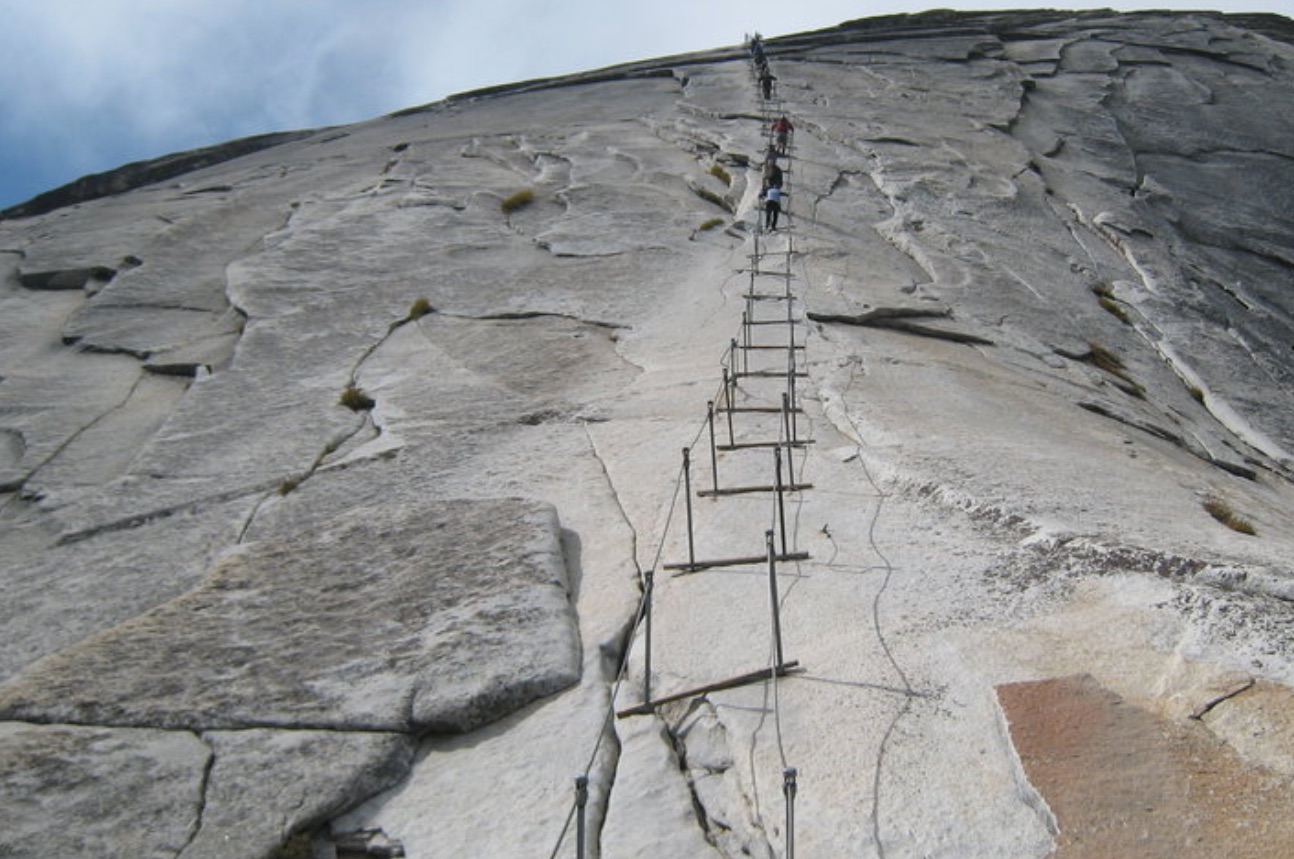 3. Mist Trail (Half Dome) – Yosemite National Park, California
Don't ignore the weather warnings, or the vertical drop.
Despite up to 3,000 intrepid hikers take on this popular trail each day in the summer season, the Mist Trail finds itself on our list of scary hikes. Why? Well, the final 122 m (400 ft) is a vertical climb up bolted still cables; fatigue, altitude sickness and dehydration affect many of would-be summiteers, and that rock surface gets mightily treacherous in the rains.
The worst time to climb Half Dome is during an electrical storm. A combination of the steel and the granite make this iconic rock a prime lightning conductor. If you're on it in a storm, you may well take a faster route down than you had intended (as previous hikers have tragically discovered).
With patience and respect, the Mist Trail needn't be anything more than a thrill. But ignore the warnings and the fear will become very real, very quickly.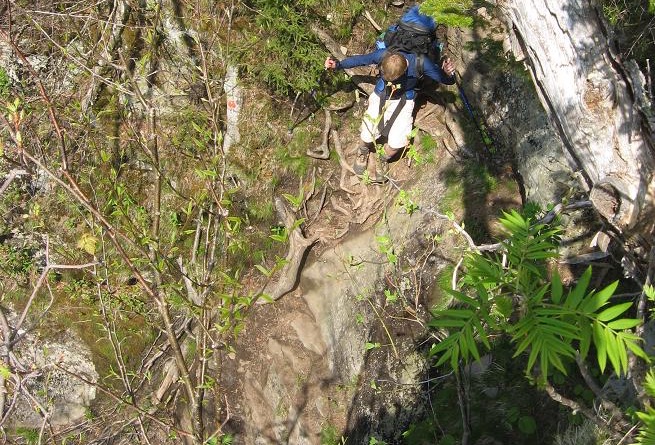 4. Devil's Path – New York
Prepare to move between heaven and hell on this slippery trail.
Walking the Devil's Path takes most people three days. And those three days will seem spent in limbo travelling between heaven and hell as you ascend and descend along the "toughest hiking trail in the east". And if, or when, it rains, the ground underfoot (granite, mud and moss) suddenly becomes more of a threat than a salvation.
Six peaks in 40 km (25 miles), and repeated visits to the plunging valleys in between is the itinerary for the Devil's Path, totalling more than 4,265 m (14,000 ft) of elevation changes. Oh, and there's the odd cliff to navigate too. Don't underestimate the trail nor its strenuousness as deaths are certainly not unknown along the Devil's Path.
Travelling from east-to-west along the northern spine of the Catskills, it is one of the more spectacular walks you can find in this landscape. Arrive prepared for the endurance and the weather, then tread carefully on this stunning three-day wilderness adventure.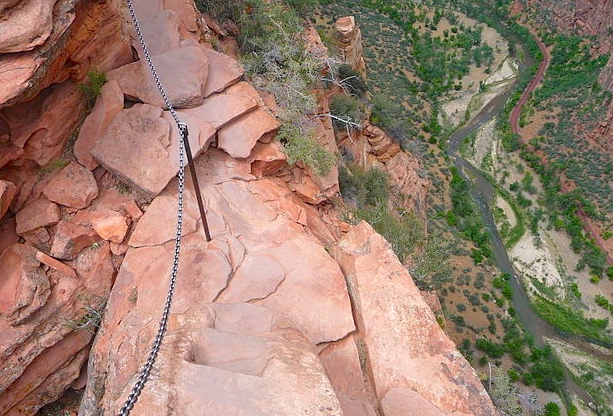 5. Angels Landing – Zion National Park, Utah
Whatever you do, don't look down – unless you like sheer drops.
A short 8 km (5-mile) return, Angels Landing's fear factor is not in the trail itself but what lies either side of it. As you progress towards the panoramic views of the lofty perch that marks the trail's 'summit', the path gets steeper, narrower and becomes more of a scramble. No problem? Either side of the path is clean air, all the way to the valley floor.
Angels Landing takes you out along a narrow rock fin in the middle of Zion National Park. The last kilometre is the most memorable part, as the rock fin narrows and steers you towards a single-track, uphill scramble along steel chains. As with Half Dome's Mist Trail, patience is the key to a safe return, and again, don't let its popularity be an invitation to complacency (the two trails have a comparable recent death toll).
For anyone with vertigo, probably steer clear of this trek. For everyone else, just be careful that it's only the angels who take flight along this treacherous ridge.
Europe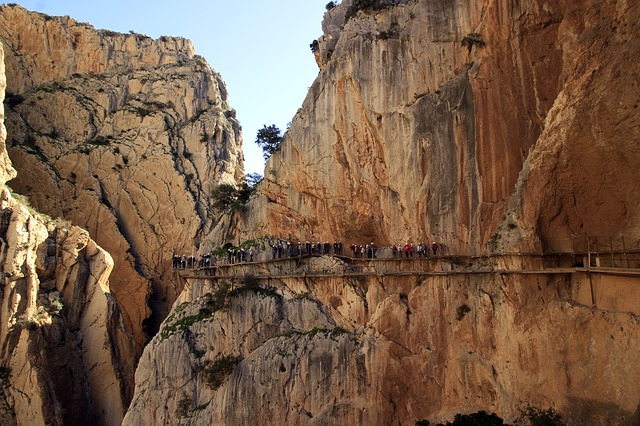 6. El Caminito del Rey – Spain
Hang out in royal history, just the path survives the hike.
How much do you trust the engineers and builders of 100 years ago? Hanging 100 m (328 ft) above the Guadalhorce River in the Betic Mountains is 'the King's Little Pathway', which was completed in 1905. For 3 km (1.9 miles), this feat of early 20th Century engineering takes you along the middle of the 300 m (984 ft) Jurassic limestone walls.
But if you think this will be a nice regal walk, think again. Today, the path is in a state of considerable disrepair, with gaping holes revealing the rusty steel supports that barely cling to the wall. Attach a harness to a steel cable for the duration may provide a sense of safety along the crumbling path, but won't stop you gulping at the prospect of some sections.
El Caminito del Rey is a magnet for adrenalin junkies, requiring rock climbing and the balance of a mountain goat as you traverse the skeletal structure of the path. A man-made adventure not for the feint-hearted, and certainly no longer for royalty.
7. Kjerag – Forsand, Norway
Give the rock a little nudge first, just to make sure it's still firmly in place.
Admired more safely from below, Kjerag (1,084 m/ 3,556 ft) towers above Norway's Lysefjord. But if you came for more of a thrill, the perfect surprise awaits you on the summit plateau.
Wedged in a crevice is a round rock, suspended over the valley below awaiting the erosion that will finally let it complete its journey to the valley floor. Let us just hope that moment doesn't arrive with someone stood on it posing for the prized photos of hikers. The Kjeragbolten is the high-point of a 5-hour return trek, though some prefer to avoid the slow downhill by base jumping off it.
A summer hike, getting the Kjeragbolten is a test in itself. Climbing 570 m (1,870 ft), the route from Øygardstøl includes several ridgeline traverses along sheer vertical drops that prepare you for the route's climax.
8. Via Ferrata – Dolomites & Alps.
Follow the soldiers' path in the Dolomite's, though the challenge of the climb is all you'll be fighting.
The 'iron roads' of the Dolomites were the world's first such routes, though now more than 300 networks exist. These original routes were built between 1915 and 1917 as the Italians and the Austrians both attempted to claim the mountains' strategic significance. Aiding the movement of troops and supplies to il fronte vertical, networks of iron ladders and cables, known as Vie Ferrate, criss-crossed this mountainous terrain.
Today, these 100-year-old networks are used by climbers and hikers wanting to explore the iconic landscape and its human history. Clipped on to cables, there are 15.5 km (9.6 miles) of Vie Ferrate to explore, allowing you experience routes normally reserved for the best mountain climbers alone.
The closest many hikers can come to real mountain climbing, the Via Ferrata certainly pushes the boundaries of what can be defined as a 'hike'.
There are also Vie Ferrate in France and Switzerland. One such example; the Via Ferrata Curalla, is easily accessible from Chamonix and this is what you are in for if you take it on.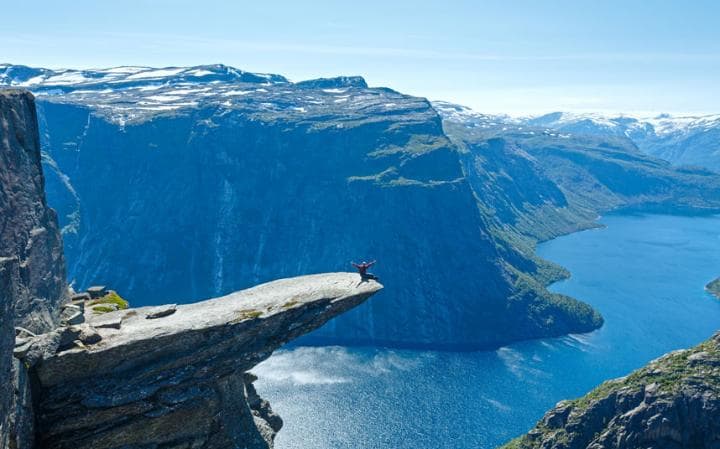 9. Trolltunga – Odda, Norway
Trust the troll tongue to hover above the valley floor.
Walk out on a troll's tongue, 604 m (1,982 ft) above Lake Ringesdalsvatnet. This flat piece of rock, which is closed to hikers in the winter, is the centrepiece of a 10-12 hour return hike from Skejeggedal.
The Trolltunga hike itself covers 22 km (13.5 miles) and requires around 900 m (2,953 ft) of ascent. Originally a multi-day hike alongside mountain glaciers and pristine lakes, it was decreased to a single-day adventure by a funicular until 2010. Since its closure, the one-day Trolltunga hike seems to have remained as a challenge for hikers fit enough to try.
What better way to re-energise at the halfway mark of a tough hike than walking to the lip of a rock suspended far above a pristine lake?
This thin protrusion is the result of glacial activity and offers a unique experience along this stunning hike. Just like Kjeragbolten, just hope that it stays there long enough for you to get your photo!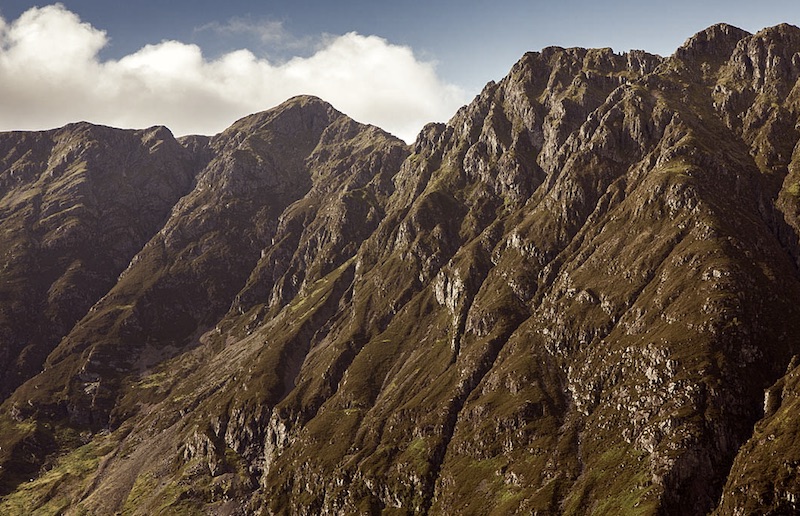 10. Aonach Eagach Ridge (Glen Coe) – Scotland
It's basically a tightrope made of rock. No problem, right?
Britain's narrowest ridgeline connects the Munros of Meall Dearg and Sgorr nam Fiannaidh above Glen Coe. The 9.5 km (6-mile) hike takes 7-9 hours, and will test both your scrambling skills and your head head for heights.
A grade-II scramble stretched out over the wilds of Scotland's west coast, this route offers stunning views alongside its adrenalin rushes. That's when you're not staring at your feet as you navigate the narrow ridge the keeps you from the 900 m (2,953 ft) drop.
Not for the feint-hearted nor the total beginner, this is a serious challenge of balance, scrambling skills and endurance. And just hope it doesn't rain when you're up there.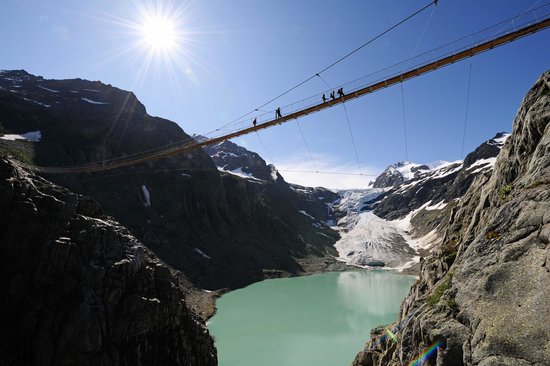 11. The Trift Bridge – Switzerland
You can try not to look down, although that's half the fun.
Spanning the base of the Trift Glacier is a 170 m (558 ft) suspension bridge, 100 m (328 ft) above Lake Triftsee. It is the longest suspension bridge in the world and is part of the Trift Bridge hike that leads hikers across a deep glacial ravine on a unique hiking experience.
The bridge was first built in 2004 as the Trift Glacier retreated to such an extent that the Trift Hut of the Swiss Alpine Club became inaccessible. As the hikers flocked to this unusual hiking experience, it was replaced with a sturdier version in 2009. Still, its sagging centre and tendency to sway in the wind will do little to reassure you as you inch your way across.
The hike to the bridge and glacier in central Switzerland is begun with a cable car trip that sails you high above the Swiss valley below. The return from cable car to bridge and back is 5.6 km (3.5 miles) and should take around 3 hours. For the more adventurous, carry on past the bridge on one of the additional trail options such as the strenuous alpine hike to Windegg Hut.
Asia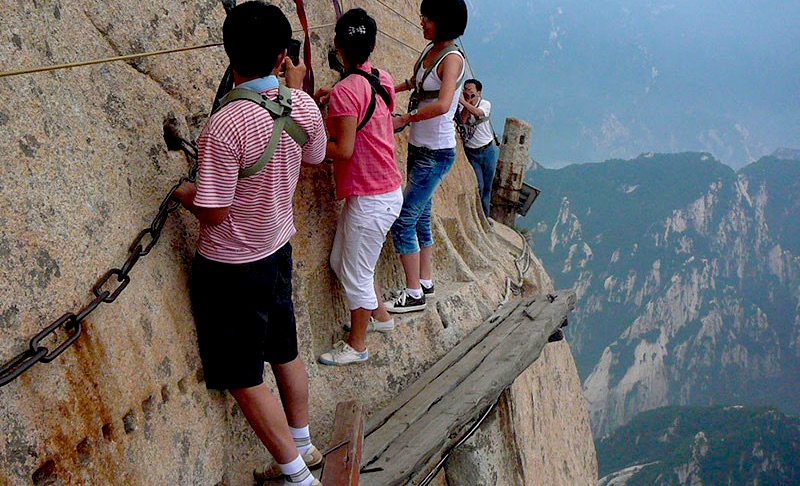 12. Mount Huashan – China
The world's most dangerous cliff side hike? Probably.
If visiting a tea house on the southern summit of Mount Huashan (2,160 m (7,087 ft) sounds like a leisurely hike through mountainous China, don't be fooled. This is one of the world's most dangerous hikes along makeshift paths that somehow cling to the sides of this holy mountain.
A route first create by monks and pilgrims in 2nd Century BC, this network of wooden planks, iron chains and occasional stone pathways is now a tourist favourite. But with drops far exceeding those of El Caminito del Rey and with names of sections such as the 'Thousand-Foot Precipice', this is a path that will push everyone's fear factor to the limit.
And don't forget the 'Heavenly Stairs': steep enough that one slip could dislodge everyone behind you.
The whole network of trails connects all five of Mount Huashan's peaks is rumoured to have an annual death toll of up to 100. So, truly, watch your step as you traverse this (hopefully) death-defying hike.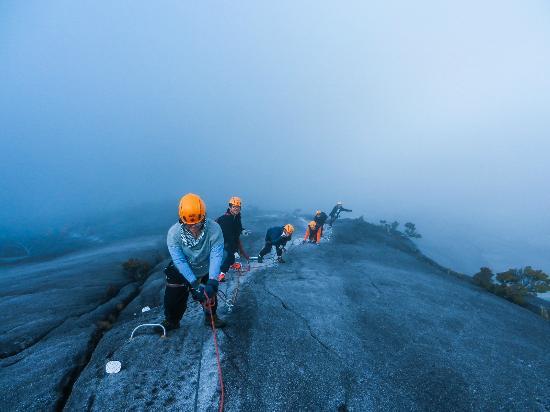 13. Mountain Torq (Mount Kinabalu) – Malaysia
You'll take the iron road and I think I'll stick to the low road.
Climb an iron road that reaches higher than any other in the world, as you ascend Borneo's highest mountain. Mount Kinabalu (4,095 m/ 13,436 ft) has suspension bridges, steel cables and ladders over two trails, the highest of which reach up to 3,776 m (12.388 ft).
Traversing the smooth grey rock walls of Mount Kinabalu requires your absolute trust in the carabiner. To reach the summit of the sacred Low's Peak requires a further scramble beyond the 6-hour Low's Peak Circuit. This makes for a 15 km (9.5 mile) return, usually spread over 2-3 days with nights spent in the numerous huts that line the route.
Reaching the summit used to involve the sacrifice of a chicken, as the locals believed their ancestors dwell on this mountain. Now this event only happens once a year, when seven chickens are offered up, but don't let that lessen your respect for the mountain's importance to the local people.
Africa
14. North Drakensburg Traverse – South Africa
If you like having company, make sure you take some friends with you.
One of the world's longest escarpments invites you to try one of the world's most stunning and hair-raising hikes. The 65 km (40-mile) North Drackensburg Traverse hike follows the northern edge of the escarpment, 3,000 m (9,843 ft) above the Lesotho plateau. If the height alone is not enough to get your pulse raising, the infamous chain ladders will.
Less an official track than a general direction over rough ground, this trail may have you crossing paths with local Sotho herdsmen, especially in summer. Apart from them, it's unlikely you'll see another soul out on this trail, which is arguably one of Africa's most remote. Self-sufficiency is an absolute necessity.
The rewards of roughing it through this African wilderness are obvious: try the view from the Amphitheater, for example, a cliff that's triple the size of Yosemite's El Capitan.
South America
15. Huayna Picchu – Peru
Don't let this hike live up to it's nickname.
Known as the 'Hike of Death', it should come as little surprise that the journey up Hunaya Picchu differs greatly from the famous serenity experienced at sunrise in Machu Picchu. From the ancient city, this 4-hour crumbling trail takes you up to the mountain's summit (2,693 m (8,835 ft) via exposed steps that climb 353 m (1,158 ft) and includes a couple of wide-runged wooden ladders.
The summit route is a circuit via the Moon Temple, though you'd be advised to head straight up first and visit the temple on the way down. The steep steps may be daunting going up, but the descent down them is downright perilous, with the mountain falling away beside you the whole way.
You'll be glad to get back to the famous Inca citadel after this additional pilgrimage!
LATEST BLOG POSTS
I quit the rat-race to live a more adventurous life. This is my journey.